6 Hillside Drive Avon NY 14414
Move in NOW! Move Ins Made Affordable!
Avon, NY 14414
Purchase Price

$109,900

Rent Price

$1,649/month
1216

sq ft

3

beds

2

baths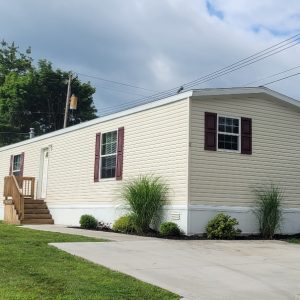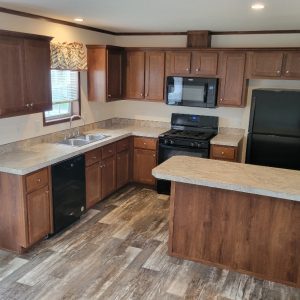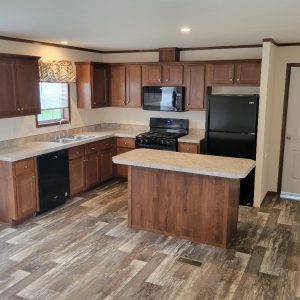 This home is available for immediate occupancy! Our most popular layout!
Tours of the actual home are available today!
ASK ABOUT OUR FANTASTIC MOVE IN SPECIALS! CALL OR MESSAGE THE SALES OFFICE FOR DETAILS!  
Speak to a Manufactured Home Lender about owning your home! MH Lender list available by request.
Twin Cedars of Avon is proudly offering this stunning home for sale or rent. This spacious home has an open floor plan and stylish vinyl flooring throughout the kitchen and both bathrooms. New carpet just installed! The modern kitchen is equipped with all pristine black appliances, fashionable umber oak colored cabinetry, a large island and plenty of room to entertain your guests. The owner's suite has its own private bathroom with walk in sliding glass door shower equipped with built in seats. The very large walk in closet allows for plenty of storage. On the opposite end of the home you will find two secondary bedrooms with a full bathroom complete with a bathtub. The laundry space is equipped with hook ups for your own electric washer and dryer.
Twin Cedars of Avon is a serene community in a country setting located a quick 25 minute highway drive south of the City of Rochester. A short 10-15 minute trip will take you to the shopping district of Avon, featuring many fantastic local restaurants, breweries and wineries. Take in the sites and activities of "always beautiful" Conesus Lake or the untouched nature of Hemlock Lake. Or take a scenic ride out to the country side of Avon, you will want to make this gorgeous home and wonderful community your own! To claim your place in this friendly, affordable atmosphere, contact the sales office at (585) 226-2080 option # 2 to schedule a tour of this beautiful home today!
***Twin Cedars of Avon now has PET FRIENDLY RENTAL HOMES! Limit of 2 pets. Breed restrictions apply to dogs and indoor only cats are allowed. $300 pet deposit, $25/pet per month on the rent. Pets must be qualified through our 3rd party website***
This home is available for immediate occupancy! Our most popular layout! Tours of the actual home are available today! ASK ABOUT OUR FANTASTIC MOVE IN SPECIALS! CALL OR MESSAGE THE SALES OFFICE FOR DETAILS!   Speak to a Manufactured Home Lender about owning your home! MH Lender list available by request. Twin Cedars of Avon is proudly offering this stunning home for sale or rent. This spacious home has an open floor plan and stylish vinyl flooring throughout the kitchen and both bathrooms. New carpet just installed! The modern kitchen is equipped with all pristine black appliances, fashionable umber oak colored cabinetry, a large island and plenty of room to entertain your guests. The owner's suite has its own private bathroom with walk in sliding glass door shower equipped with built in seats. The very large walk in closet allows for plenty of storage. On the opposite end of the home you will find two secondary bedrooms with a full bathroom complete with a bathtub. The laundry space is equipped with hook ups for your own electric washer and dryer. Twin Cedars of Avon is a serene community in a country setting located a quick 25 minute highway drive south of the City of Rochester. A short 10-15 minute trip will take you to the shopping district of Avon, featuring many fantastic local restaurants, breweries and wineries. Take in the sites and activities of "always beautiful" Conesus Lake or the untouched nature of Hemlock Lake. Or take a scenic ride out to the country side of Avon, you will want to make this gorgeous home and wonderful community your own! To claim your place in this friendly, affordable atmosphere, contact the sales office at (585) 226-2080 option # 2 to schedule a tour of this beautiful home today! ***Twin Cedars of Avon now has PET FRIENDLY RENTAL HOMES! Limit of 2 pets. Breed restrictions apply to dogs and indoor only cats are allowed. $300 pet deposit, $25/pet per month on the rent. Pets must be qualified through our 3rd party website***
Community General Manager
Community General Manager
Information Center
Office Hours
Monday

10am - 6pm

Tuesday

10am - 6pm

Wednesday

10am - 6pm

Thursday

10am - 7pm

Friday

10am - 6pm

Saturday

10am - 5pm

Sunday

12pm - 5pm